Brian Dennis
President & CEO
406-294-4518
Brian joined the Club in early 2004 as the Director of Program Development in our Lockwood Clubhouse and after serving as our first Director of Operations became the President & CEO in June 2007.
Under Brian's leadership the Club has not only significantly increased the number of members served through community partnerships but also improved the program and business operations to allow our professionals and volunteers to spend most of their time focused on providing every member with a world-class Club experience.
Annie Hasiak
Vice President, Program Advancement
406-294-4517
Annie has been with the Club since 2005 when she started as the Teen Director at the Castle Rock Clubhouse. After working as a Unit Director she took on her current position as Vice President, Program Advancement in 2009 and oversees our Staff Leadership & Program Development.
In this role Annie has found a true passion for supporting Club members and Club staff in pursuing their aspirations. Annie was twice recognized by her peers as the Montana Club Professional of the Year and was also selected as BGCA's Southwest Professional of the Year. Annie has over 15 years of experience working with youth and holds an MS Ed in Secondary Education from the University of Pennsylvania. Annie is an avid fan of her 3 children, the New Jersey Shore, coffee ice cream, big leafy trees and all things that create laughter.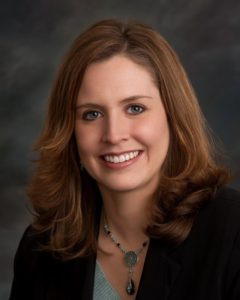 Karrie Owen
Vice President, Donor Advancement & Marketing
406-294-4511
Karrie joined the Boys & Girls Clubs of Yellowstone County to oversee all aspects of our resource development, which included the annual Back-A-Kid campaign, "Tee It Up For Kids" Golf Tournament and the BE GREAT Ball. At the same time, diligently working to further build the Boys & Girls Clubs marketing efforts and increasing the Boys & Girls Clubs' Endowment Foundation.  Since that time, the Club has grown and Karrie's primary focus is on building relationships and partnerships to help with the annual operations of the organization.
With more than a dozen years experience, Karrie is committed to the Boys & Girls Clubs mission and strives to open the doors that will build a brighter future for the Club and the kids the Club serves. Karrie was raised in Billings and enjoys working with the community.
Karrie is excited to go to work and is continually impressed by the generosity and support members of the Billings community provide to outstanding programs like the Boys & Girls Clubs of Yellowstone County. If you would like to give the gift of a GREAT FUTURE or are interested in the various ways you can Open the Door to a member's future you can e-mail Karrie at Kowen@bgcyellowstone.org.
Kristie Asay
Vice President, Donor Engagement
406-294-4530
Kristie has been with the Club since 2022 as Vice President, Donor Engagement. She works to build all initiatives of the BGCYC Endowment Foundation as it enters its fourth decade. Building a legacy is about creating something that will outlive us all and transform the lives of children we may never meet. Endowing the potential of the next generation holds the possibility that every child will BE GREAT.
For 20 years, Kristie has worked to provide access to private education, the performing arts, health care … those who need us most in the Billings community. She is most excited to ensure that the interactive Clubhouse settings, talented staff, and quality programming, are preserved and enhanced for our extra special members.  Kristie can help set your values into motion through various gift plans tailored to suit your needs; we live in a fantastic place and Montanans can realize significant tax savings through generosity as vast as Big Sky Country!
Sheri Potter
Program & Human Resource Assistant
Sheri joined the Boys & Girls Clubs of Yellowstone County in December of 2017.
Carson joined the Boys & Girls Clubs of Yellowstone County in July of 2020.
Nicoletta Flores
Development Support Assistant
Nicoletta joined the Boys & Girls Clubs of Yellowstone County during the winter of 2021 after moving to Billings with the goal of finding a purpose in the community.  In her role, Nicoletta uses her creative skills and attention to detail to help deploy resource development tasks with ease and uses her theatre degree to guide our special events to success.  She is committed to the Club's mission and hopes to make a difference in the lives of the kids the Club serves!  In her spare time, Nicoletta enjoys spending time with her feline friend, Luca, as well as inline skating, hiking and crafting.
Josh Kostelecky
Project Support Specialist
Josh joined the Boys & Girls Clubs of Yellowstone County in January 2022.  Josh brings his experience as a paraprofessional to the organization and has enjoyed helping with the grassroots effort to connect Club's around the state to work together on programs like VR.  Josh has previous experience working with children, judging speech and drama and helping BPA professionals.  In Josh's free time he helps direct the annual spring play at Laurel High School.
Contact our Bair Family Professionals
Contact our Castle Rock Professionals
Contact our Medicine Crow Professionals
Contact our Lockwood Professionals
Contact our McKinley Professionals